The most oft-asked question a writer gets is, arguably, "Where do you get your ideas?"
Someday I'll come up with a witty reply. Like, "Safeway. Freezer Section. Right next to the frozen pretzels. There's a whole bunch of ideas, just sitting there. Don't grab those ones in front, though, they're kind of freezer-burned."
The thing is, every time someone asks me this question, I want to channel Lucas from Empire Records: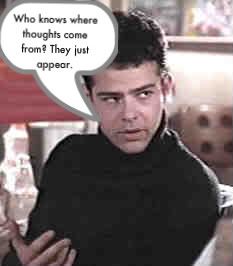 I mean, come on. It's not like I have some kind of top secret method. I don't drink three shots of vodka and then spin around in an office chair.
No, my method is much more straight forward.
At a conference a couple years ago, Liesa Abrams ( An editor @ Simon & Schuster's ALADDIN imprint) led a session on how to create high concept: What if you gave your MC their greatest wish or desire?
She was talking about Harry Potter, and how the MC was just a lonely kid with no special qualities. JK Rowling gave HP everything he wanted-- a place to belong, a place he was special.
Last year, I struggled to find the perfect follow up for PRADA & PREJUDICE. It had to be high concept. Light. And funny. And it was really hard to find something good enough that also fit in that box. As a published author, I now had (have) expectations on what I put out into the world. I have a brand to think about.
And nothing was sticking. Dozens of ideas flew back and forth between my editor, agent and me, but that spark hadn't ignited yet.
After weeks of actively brainstorming ideas, I was falling asleep one night, thinking about wishes in a more obvious way. About how teens grow and change and don't always want today what they wished for yesterday. I was falling into slumber as the thought of a real life My Little Pony came to me, and I remember thinking, "OMG I have to write that book. If I wake up in the morning and this idea doesn't sound totally freaking ridiculous by the light of day, I'm going to write it."
For me, coming up with ideas is as simple as proposing that question: WHAT IF? WHAT IF a teen ends up in 1815? (Prada & Prejudice) WHAT IF a girl gets her birthday wishes-- every last one of them? (You Wish) WHAT IF a girl had a secret-- one that kept her from ever having real relationships? (Ripple).
Asking that question is like standing on the top of a hill, packing a snowball tightly in my hands, and then sending it rolling. Some of the snowballs fall apart or get to the bottom and they're no bigger than they were before. But other snowballs grow, gathering steam, until they arrive at the bottom the size of a mountain. And that mountain is my fully formed idea-- the hook, the character, the general story arc.
So, how about you, readers? "Where" do you get your ideas?
Current Mood:

awake