1) TRUE CONFESSIONS OF CHARLOTTE DOYLE is being made into a movie!! This is one of my ALL TIME favorite books. According to publisher's weekly:The True Confessions of Charlotte Doyle by Avi is being made into a film starring Morgan Freeman, Pierce Brosnan and Saoirse Ronan, according to Variety. Danny DeVito has written the screenplay and will also direct. DeVito also directed the 1996 film adaptation of Roald Dahl's Matilda. Charlotte Doyle is in pre-production, with shooting to begin in September.

2) I've read three books this week (well, not done with the third yet....). LOCK & KEY by Sara Dessen, The Night by Sister Went Missing, and TWISTED, by Laurie Halse Anderson.

3)My agent is at a conference this weekend, but she took SHATTERED with her to read and should give me some feedback on Tuesday as to what she thinks. I think she's either going to love it or hate it. Time will tell.

4) This picture of the cover of a magazine makes Edward from Twilight look really creepy, and not in a good way: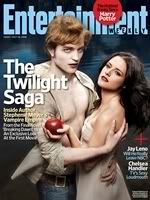 5)My daughter loves books. When i get one out and read to her, she grins HUGE and looks up at me with this excited look. This makes me insanely happy. Hopefully she moves up to novels by next summer so I can read her PRADA AND PREJUDICE. She'll only be like, 13 years younger than my target audience.