February 21st, 2008
Received some excellent news from the agent today. It appears the the editor who made a revision request last week (see previous entry) has agreed to seeing 100 pages plus an outline rather than a full (revised) manuscript. The agent indicated we'd send it over by March 20. Gah!! That's so close. It gives me just THREE WEEKS to write 100 new pages and a full outline, get it to the agent in time for her to read over, and then a few days to make any neccessary tweaks. However I think this goal is a wise one, becuase I think they were rather attached ot the concept, and I'd hate for so much time to pass that they're feeling less enthusiastic about it.

Last weekend my 'homework' was watching PRIDE AND PREJUDICE with a note pad in hand, scribbling all sorts of random things.
Among these hastily scribbled gems is: "Character: Peacock -> NECKCLOTH!" and "Dance: Patticake style thing" and Pride: fault or virtue?" Rest assured, this all makes sense to me. I'm also nearly done reading the original Austen version.

So herein lies another mountain in front of me, and I'm eagerly set to climb it. I only hope that on that peak i will be rewarded.

Mandy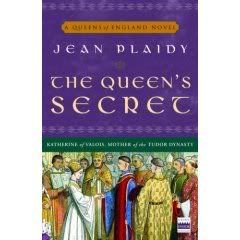 The most recent book I've read was THE QUEENS SECRET, which is considered fiction but centers around the real life Katharine of Valois, born the Princess of France and later crowned the Queen of England. The setting is around the tumultous fifteenth century, for both France and England, the two countries which are supposed to unite with the strategic marriage of Katharine and Henry.
The book is, in a word, fascinating. It's history like you've never seen it. Its a tale of love and tragedy, greed and selflessness, and will keep you turning the pages. The world is filled with restricitons and cruelties, and yet through all the adversity Katharine is determined to find happiness.
So if you're looking to enjoy a good fictional book while still learning a great deal about history, look no further: this book is a pleasing blend of both.
Mandy