First up is YOU HAD ME AT HALO: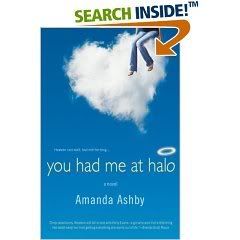 In this book, 22 year old Holly Evans has been kicked out of heaven. Turns out she's got too many issues holding her back to get to "Level 2" of Heaven- And Level 3 is where she'll finally get to see her long deceased parents. So she returns to Earth with two days to solve her problems-- with one catch: She's been sent back in a guy's body. Oh yeah, and one other thing: The guy is still in there too. Imagine sharing your body with a guy you barely know! Now all Holly has to do is prove to everyone that her death was a horrible accident and not suicide, and that she really was going to say Yes to her boyfriend when he proposed. As you can imagine with a setup like this, Hilarity ensues. Amanda Ashby has managed to use the fun chick-lit style voice without making her heroine seem like a dingbat-- something I can appreciate, because its a tough marriage to make. On top of that there are laugh-out-loud funny moments and a fast pace. What else could you want? Definitely go check out YOU HAD ME AT HALO.


Next Up: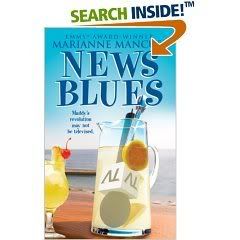 News Blues, To be released February 26th, is written by Marianne Mancusi-- author of MOONGAZER, BOYS THAT BITE / GIRLS THAT GROWL, A CONNECTICUT FASHOINISTA IN KING ARTHURS COURT, and more. In her day job Marianne is an emmy award winning producer, a background she puts to use in NEWS BLUES. This book features a fun, sexy romance between a too-hot-for-his-own good photographer and a knows-what-she-wants producer, all with a backdrop of a dangerous international drug smuggling ring about to be uncovered. Two thumbs up for this sexy read!
And finally: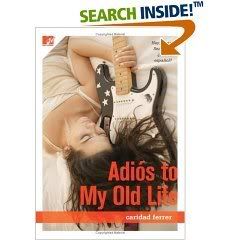 With the Popularity of AMERICAN IDOL, you'd think ADIOS TO MY OLD LIFE would be the best known novel out there! It features Ali Montero, a girl trying to go after her dreams: a music career. Even though she might get stage fright now and then, it goes away the moment she's in front of an audience. And unlike the others in this spanish style American Idol, she's not content just singing random pop tunes. No, this girl's got soul. ADIOS is a wonderful, dynamic debut from CARIDAD FERRER, whose books tend to be spicy and multicultural, without losing their relevancy to the average teen. I highly reccomend you check it out!