Welcome to my blog! I'm a literary agent with D4EO Literary and an author of novels for teens-- written as both Mandy Hubbard and as Amanda Grace.
Currently Available: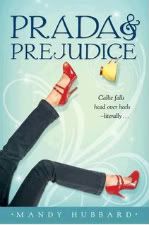 My releases are as follows:
Driven, a novella within AT ANY COST (Available now from Harlequin)
You Wish (Available now from Razorbill/Penguin)
Ripple (Available now from Razorbill/Penguin)
In Too Deep (Written as Amanda Grace, 2012, Flux)

Dangerous Boy (Summer 2012, Razorbill/Penguin)
For more information on my books, please visit me at
www.mandyhubbard.com
For information on how to query me, go HERE.
Hey guys!
Some of you may know that I am teaching an upcoming course on
Writing & Selling the YA nove
l for
Lit Reactor
. I ran this course over the summer, and I had an ABSOLUTE BLAST working with 18 students. As an agent and author I don't always have time to work in depth with aspiring authors and this class gives me the perfect excuse to critique and discuss, and I LOVE that.
I've been getting comments on twitter that folks want to join the class but aren't able to pony up the $397 price tag, so I asked for permission to give away an extra seat, and the folks at Lit Reactor obliged, so here we are! I wish I had some magically fair way to give it away to the winner who most deserved it, but I'll have to go with a plain old game of chance instead.
There are a few ways to win-- follow me, tweet the giveaway, and/or leave a comment. Each of those gives you one entry. (And I think rafflecopter allows you to tweet once each day for an extra entry!).
Good luck and I'm so excited to work with the winner-- the course includes several lectures and four critiques, which cover 30 pages and a query letter, so I end up getting to know everyone and their novels pretty well.
The contest is open until Wednesday, September 19, since the course starts September 20
.
(Rafflecopter didn't want to embed, so please follow the link below to enter.)
a Rafflecopter giveaway
Hi All,
I am in need of a new intern (or two) to maintain the query pile, and also likely read some full manuscripts of your choosing. It means managing an email account by screening the queries into folders for my review, and sending the requests/rejections once I've reviewed them. It would also entail writing up reader reports on full manuscripts. You will not be required to read full manuscripts that do not resonate with you-- you would simply tell me where you stopped reading and why.


I still personally read ALL of the manuscripts but knowing where you stopped and why helps cut down the time I spend reading, particularly when I'mon the fence.
I suspect it is about 5-10 hours a week (just a few hours with queries, and the full reading beyond that is at your discretion), but that's flexible, and if I choose to select two interns, then the time can be split between both of you.

PLEASE NOTE: I represent only middle grade and young adult fiction. Those are the only two genres you will be reading, so a love of those is a must.
Some basics:
This is a remote position (it can be done anywhere. Literally. You can live in Zimbabwe.)

You can work at any time of the day.

It's okay if you are a writer. It's okay if you are querying and have queried me or plan to. It's okay if you are agented and/or published. You may want to make sure your agent is comfortable with it.

It is an unpaid internship, but I am happy to chat with you about publishing and give basic advice.

You may choose to call yourself a 'lit agent intern' on twitter and whatnot, but you will not be able to publically discuss that you are my intern, specifically. This is pretty standard, but i wanted to be upfront.

If you already intern for another agency, publisher, I am unable to consider you for this position, simply to avoid any conflicts of interest.

If you happen to live in the Seattle-Tacoma area (NOT required) and are interested in working together in my home office for a few hours every other monday, we may discuss this. You may also be paid in lunch dates. ;-)
Please send an email to: Mandy@d4eo.com
Include:
-Any publishing background (No experience required, but it's good to know if you do have some)
-A list of your favorite books (5 or 10 titles).

-Do not attach anything.

-I do not need a full blown resume. Keep it casual and just tell me a bit about yourself and your favorite books. If you WANT to include your resume that is fine, but please paste it below the rest. No need to write a new resume just for me.
I will wait until this weekend to screen the applicants, so the position is "open" until Friday, August 24 at midnight.
I recently scored an advanced copy, and today I finished reading THRONE OF GLASS, which comes out in two months:
By the time I got to the end, I had tears in my eyes, for a thousand reasons. The story is beautiful, so fully developed it's easy to believe it has spent a decade evolving and changing. It's the story of an assassin, of a prince and a captain of the Royal Guard, the story of a world so fully realized, so completely layered, I want to believe it exists. It's rags to riches and back again, it's ball gowns and sword fights, it's love and loss.
It's so many things it's nearly impossible to put to words.
Sarah J. Maas, the author, started writing this book in her teens, on a site called Fictionpress—the same site where I once penned some utterly horrible books, starting when I was 20—which was in 2003. I can say without a doubt, if I had not stumbled upon that site, I would not be writing today.
In 2008, five years after joining the site, I got my first book deal—a two book deal for Prada & Prejudice. I didn't write for fictionpress any more, but I popped in on it occasionally, and I never forgot the then titled QUEEN OF GLASS. While I found modest success on the site (my most popular story has over 150,000 hits, with 600 or so reviews…), my success paled in comparison to Sarah's. I am not sure if there is a 'ranking' system on the site, but it would be nearly impossible for any one to say they had a story more popular than hers.
She'd left a note up months (years?) prior, that she was planning to revise QUEEN OF GLASS. And then she went mostly silent. I didn't know Sarah. We'd never emailed, or IM'ed, or anything like that. But the story stuck with me, and I felt a certain camaraderie with this writer I'd never talked to, but who clearly took her writing as seriously as I did. Her talent shone through, and she deserved to find success.
So, randomly, on September 5, 2008, I looked up her fictionpress profile, found her email, and emailed Sarah. Here's what I said:
I just thought I'd drop you a line and see how everything is going in regards to revising QUEEN OF GLASS, and if you are pursuing publication. The reason I ask, is that I too, started on Fictionpress (in 2003) and got a book deal this year for my debut, PRADA AND PREJUDICE, from a major publisher. It's been a crazy journey from Fictionpress to publishland! Since QOG is one of the books I really love from FP ( I think you are insanely talented and creative!) I wanted to see if you had any questions about how I made the journey or just needed any help in general.
It sounds kind of pompous when I read it now. I sound all, "Since I am so amazing and know everything, I thought I'd offer you my advice!" haha.
Sarah replied, saying:
Thank you so, so much for your letter—and congratulations on getting your book deal! I do, in fact have some questions—and can use whatever help I can get!...
Later, in her email:
I've queried three agents, and all of them have turned down QoG. Their main reason was its length
I smiled, remembering how it felt when I got those first few rejections and though OMG I AM NOT GOOD ENOUGH. I told Sarah that three rejections was NOTHING – in big ol caps—telling her I knew plenty of successful authors that had 30, 40, 50 rejections…and then asked how long QOG was. It was… LONG.
So I said:
Although it would probably take me a few weeks to get through it, would you like me to read QOG and see where you can trim some?
To which Sarah replied:
I'd be honored/thrilled to have you look at QoG, and please don't hesitate to chop out extra junk.
She attached the book that day, and based on our email chain, it looks like it took me two months to send back the book, during which time we didn't talk at all. She probably thought I disappeared and she'd never hear from me again. I don't remember how long I had the book before I opened it, but I remember sitting on the train every morning and every afternoon—thirty minutes each way—for a couple of weeks, totally engrossed in her world, her assassins, her beautiful, beautiful writing. At that time the book was 900+ pages long—247,000 words.
When I was done, I wrote back:
Okay, I finally finished my critique. I wish I could express how much I truly adore your novel, but even though I am a writer, words escape me. Its original and beautiful and heartfelt and touching and so much more…
I know you believe in this book in your soul. And I know you want to share it with readers. And the only way to do that is to fit it within the parameters of publishing. Which means cutting 100K words. I want to warn you that I cut your novel down to 157K…
I remember typing up that email, and feeling like I should write it while covering my face with one hand and looking at it through my fingers. Sarah and I had exchanged maybe 5 or 6 emails at this point, and I had no idea how she'd take my advice. I'd spent almost two weeks of my (little) free time, and I half thought she might smile politely, thank me, and then chuck everything. A lot of writers are so close to their precious manuscripts that they don't take advice well, and I was no one to her. Just a random person who had emailed, volunteered to crit her novel, and then hacked it to pieces.
It's like if she was painting her house and I randomly walked up all, "You don't know me, but I' ma professional painter. You missed a spot."
But Sarah is a true pro—even back then—and she jumped on board immediately. We fired back and forth, talking about various subplots. I also just realized in looking over our emails that it was Sarah who first used one of my absolute favorite analogies for danger/villains/etc in writing. Says Sarah:
To make a weird analogy, part of the reason why Jaws works so well as a scary movie is because we don't see the shark for most of it, and we're left to our imagination's worst fears.
This was a girl who knew what she was talking about.
In one of my emails—November 18, 2008, I said this:
And after struggling for three years to get my break, I am totally happy to do anything I can to help someone. You're the type of writer I'm willing to help-- the type of person who is taking it 100% seriously, who researches the industry, who writes almost every damn day, and who believes in her own work deep in her soul. That kind of passion deserves to make it.
Plus, when you're bigger then Tolkein, I can have YOU blurb ME. :-)
Sarah started querying the following month, after wading through all my notes and strike-throughs and gibberish, and a month later, an agent called and offered her representation. It sold later that year to Bloomsbury. Helping her gave me a big moment of clarity-- I wanted to do this for a job, not just as a friend and a writer. She's a big part of the reason I became an agent.
And now, with THRONE OF GLASS coming out this August, I have to say—I think Sarah's poised to be blurbing my novels any day now.
Sarah, like I said above, you deserve to make it. And make it, you did. Congratulations on an amazing, amazing novel. I could not be more proud to call you a friend, and I can't wait until the world gets to read THRONE OF GLASS.
Today, as everyone knows, is Leap Year. (Leap Day?) Since I have been musing lately on how very much has changed in four years, I thought it was fitting that I blog today about where things stood for me last leap year.
Let's rewind to our last leap day, February 29, 2008. I had been writing for five years, seriously pursuing publication for three years. I had signed my first agent in January of 2006, two years prior.
The novel I signed her with, THE JETSETTER'S SOCIAL CLUB, had already crashed and burned on submissions. We had about twelve rejections, all of them oh-so-very "meh."
If the road to publication is comprised of all the circles of hell, the first circle, I am telling you, is the "not right for me" or "didn't connect with the voice" circle. Those piddly, two sentence rejections that dismiss your novel like a cold, overcooked steak. (Wait, can a steak be both cold and overcooked? If so, I guess that was THE JETSETTER'S SOCIAL CLUB.)
I had lived in that first circle for more than two years—throughout all of 2005 as I queried, and then in 2006, until my agent decided that maybe another project would be a stronger debut.
And so she sent out PRADA & PREJUDICE.
And that's when I reached the next circle of hell. The "I really love this, like this, this is so great, and yeah… I still don't feel strongly enough to take this on."
If my book was a steak, I guess it had reached luke-warm status. But then… someone saw something in it.
And they asked me to revise it.
Revise and Resubmit requests are a staple of the industry, something not a lot of people necessarily aspire to receive, but I was overjoyed. I had reached the next circle of hell.
Also, I may have just realized that in this analogy, the final result (publication) is still hell. I have realized it, and I am amused by it, so let's just roll with it.
Throughout the months leading up to leap day in 2008, I continued to revise PRADA & PREJUDICE, seeing it through drafts four, five, and six. In fact, I received more than one revision request, so I would revise both for specific editors, and as we gathered rejections/criticism.
I continued to bounce back and forth between the second and third circle—between lovely detailed rejections and revision requests.
But by February 29, 2008, I had been agented and on submission for more than two years. Prada & Prejudice had spent 14-15 months making the rounds, and I'd amassed 20 rejections.
I once likened the feeling to standing at a door, pounding on it with all I had, and wondering if any one would ever answer. If any one would ever just open the damned door and let me inside, where all my published friends were.
That's what it's like, isn't it?
They say the definition of insanity is doing the same thing over and over and expecting a different result. If so, let's just agree that writers are insane, shall we? I'm allowed to say that because I am one. I think that's how this stuff works.
So, apparently, I insanely wrote and wrote and revised and revised and I just kept waiting for a different result. I kept waiting for a yes instead of a no.
That leap day in 2008, I didn't know if I would ever be published. I didn't know if I was good enough to be. I knew that at any moment, my agent could email me and tell me we'd had a good run at it, and that we needed to trunk PRADA & PREJUDICE. And it would have been a perfectly reasonable thing to do.
She had more than done her job and my book hadn't sold, and I had nothing else to give her. In fact, at this point I'd showed her lots of ideas and proposals and even one entire full manuscript, and to all of them, she'd given me, "meh."
Nicely, of course, but she meant they weren't good enough.
And so on this day I felt I was stuck. Stopped completely. She'd loved the two novels she'd shopped and they'd not sold and nothing else was good enough, and I started to wonder, really wonder, if that door was ever going to open.
I didn't know it at the time, but my biggest revision request was still to come. It wouldn't arrive for several more weeks, in late March or early April, as I recall.
It turns out the next circle of hell is Rewrite and resubmit. We had an enthusiastic response to the general idea of Prada & Prejudice—and the title—but this editor wanted me to go in a new direction. An entirely new direction.
I'd been standing at that door for so long, and now it seemed like I could hear someone on the other side, and all I needed to do was convince them to open the door. And this time, I refused to fail. So I tried a whole new approach.
I opened a blank word document.
I stared at the empty page.
And I started over.
From scratch.
After six drafts of the novel, I pitched everything I had and started again.
I wrote on the train every day—30 minutes each way. And during my lunch breaks, and at night. My daughter was 10 months old and my husband worked nights—so that we could avoid day care—and that meant I had to keep her up as late as possible so that she would sleep in and allow him even a few hours of sleep. I was exhausted by the time I put her to bed but I stayed up late anyway, working on the new draft.
Eventually, we resubmitted the book, and I held my breath.
And it was rejected. It's funny, all these years later, because as an agent I still submit to this editor, and I've actually met her in person, and she's absolutely lovely. And I have NO hard feelings whatsoever for her rejection, because I actually credit her for helping me get published.
I tell this story at conferences—of the editor who asked me, essentially, to rewrite my book and then rejected it—and I think people expect me to be, at the least, annoyed with her.
It was the challenge—the carrot on the stick—that forced me to take a hard look at the book and do what it had needed all along. To dig much deeper.
Still, there is an especially deep circle of hell on the way to publication called, "Getting your hopes really, really high before you get rejected," because, well, it's agonizing to still be standing on the wrong side of that door, staring at the doorknob so sure you're about to watch it turn, and instead you hear the footsteps as they walk away.
Amazingly, my agent still did not give up. We were now 22 rejections in, and she said, "you know what? You worked really hard and the book has been totally rewritten. Lets take it out again."
And she did. And two weeks later, we had two offers from major publishing houses. It sold in a two book deal to Penguin.
And now on this leap year of 2012, my career looks like this:
But I didn't know that, on February 29, 2008. I only knew I was still banging on a door that may never open.
I'm writing this not just to reflect on my own career changes, but to say this: Today is your leap year of 2012. All you know is what your career looks like right now, at this very moment. Four years from now you'll look back and remember where you were, and maybe you'll marvel at how far you've come. If not becuase you're published, but becuase you've committed to a dream. Becuase your writing has improved. Because you've made friends you never would have met otherwise.
Let this day be the day you make a commitment.
Let this day be the day you decide you'll keep banging on the door-- for another four years.
Maybe they'll be four years of rejection and dejection and struggle, but maybe they'll be four years of triumph and success.

No one can promise you success. But you can earn it.
So today, we celebrate… OUR INDEPENDENCE DAY!
Just kidding about that last part.


I just contacted the two interns I selected, so if you don't have an email from me, I'm sorry to say that we won't have the chance to work together this time.

Please know that I had 130+ responses, and then two or three dozen emails starred for further consideration, and could only select two, and it was such a hard choice!

Thanks again everyone! Keep an eye on my blog or twitter in the future in case another opportunity comes up.
Thanks so much you guys! I was overwelmed with the response to my intern call. Y'all are amazing, and I'm so humbled that even one person would give their time to me for free.
I've not been blogging as much as I used to, partly due to time contraints and mostly becuase I got distracted by SHINY! NEW! TWITTER!
In any case, here's what I've been up to:
1) Earlier this week I hosted a Ustream chat to celebrate the release of IN TOO DEEP. You can watch it
HERE.
2) Huge congratulations to
Emily Murdoch!
We sold her debut YA, THE PATRON SAINT OF BEANS, to St. Martins a few days before chirstmas, and more recently, dutch and german rights. I've promised to prance around in wooden shoes while drinking beer.
3) Blogger Naomi Bates made a wonderful trailer for IN TOO DEEP:
4) I'll be a
WHIDBEY ISLAND WRITER'S CONFERENCE
next weekend, with fellow D4EO agent Bree Ogden, and this summer at
PNWA.
5) Finally,this week I had the absolute pleasure of reading
Sarah Maclean's
newest regency-set romance, A ROGUE BY ANY OTHER NAME.
YOU GUYS. I don't do a lot of book reviews on this blog, but.... WOW. I've now read all four of her romances and her YA romance, and this is her best yet. I seriously can't get over the chemistry between the two characters. *Swoon*. Get thee to a bookstore next week when it releases!
Hi All!
*dusts off blog, looks around, whistles*
Man, it has been awhile since this thing has been updated! Sorry about that. I'm finding I have plenty of time for bite-sized conversations on Twitter, but this poor blog keeps getting ignored. Except for thos spammers with Louis Vuitton luggage sales.
In any case, great things have been happening lately, including the release of IN TOO DEEP!
IN TOO DEEP, for those uninitiated, is about a dark lie spiraling out of control.
To celebrate the release, I'm going to be participating in a USTREAM live chat! It takes place on Tuesday, February 21, at 5pm CST. The details are
HERE.
I hope you'll join me!
Exciting news! The folks at Razorbill have been working on a killer cover for DANGEROUS BOY, and I saw the latest version last week. I was (im)patiently waiting a final draft, and then.. it popped up on Amazon. It's already being picked up by bloggers, so I thought I'd share it here.
SO, without further ado....
TA DA!
I totally love how much this cover captures the mystery and mood of DANGEROUS BOY.
There's also been some not-quite-right copy floating around (and getting posted to GOODREADS) so here's a more accurate draft-- keeping in mind it IS a draft and not final:
Harper's new boyfriend Logan Townsend is everything she never knew she always wanted—tall, muscular, with tousled brown hair that falls effortlessly around his face. But what's most exciting about Logan is that he's exhilaratingly dangerous, and dating him allows Harper to say, "buh bye" to her good-girl past and "hello" to newfound adventure.
There's only one problem with Harper's otherwise heart-stopping romance: Logan's twin brother Daemon. Harper knows he's a bad seed, but she tries to look past his dark, icy stare and his chilling demeanor. After all, he and Logan are a package deal.
Then cow bones start appearing in people's mailboxes, a flock of birds show up dead, and all of the cars in the senior parking lot are given flat tires—and covered with blood-red handprints. Logan insists that Daemon isn't involved—sure, he's had some trouble in the past, but they moved to Harper's quiet northwest Washington town so that they could both start over.
Harper desperately wants to believe Logan, but the more he tries to protect his brother, the more she wonders what she
isn't
being told. Now, Harper must unearth the hidden secrets of the mysterious Townsend brothers' history if she and Logan are to have any hope of a future
.
But learning what brought Logan and Daemon to town won't put just her heart in jeopardy... She's playing with her life.
You can Add Dangerous Boy to your
GOODREADS SHELF
or PREORDER
IT ON AMAZON
Hey Guys!
I wanted to let everyone know that GETTING CAUGHT is promo-priced at 99cents for October, and is available for both
Amazon
and
B&N's Nook
. And of course, if you don't have a kindle or nook, both sites allow you to download the apps for your phone or computer.
GETTING CAUGHT is a full-length YA novel about two friends in a prank war that won't end until one of them gets caught. And, you know, there's a boy. ;-)
Here's the first chapter if you'd like to check it out! :-)
Today is the day Jess Hill goes down.

I'm not giving up until she's been fully discombobulated, disgruntled, disparaged. Until she's been dismembered.

I'm standing behind the gym, near the dumpsters, waiting for the transaction to be made. This must be where all the smokers light up before class, because the smell of stale cigarettes mingles with the garbage. Also because a couple of scruffy-haired losers came out here a second ago with butts in their mouth and freaked when they saw me, as if being Valedictorian means I'm also Willow High's narc.

Okay, so I'm probably the first person ever to hide out behind the school reading the Princeton Review's SAT prep book. My version is dog-eared and rumpled, since I've had it since freshman year. I've memorized every single word in the vocabulary section, from A to Z, but I'm working on the D's again just to make absolutely sure.

I look up from the book again, and a trickle of sweat slides down my ribcage. It's January, the first day back since Christmas break, so I should be freezing, not sweating. Though Ken told me the only people who come to this side of the building are the stoners and the janitors, I'm still nervous about getting caught with the offending material. The war has raged for three years now, and with each passing prank I'm more determined to see to it that Jess is the one who gets caught.
(
Read more...
Collapse
)
Happy (early) Friday!